LARGE FLOW CATALOG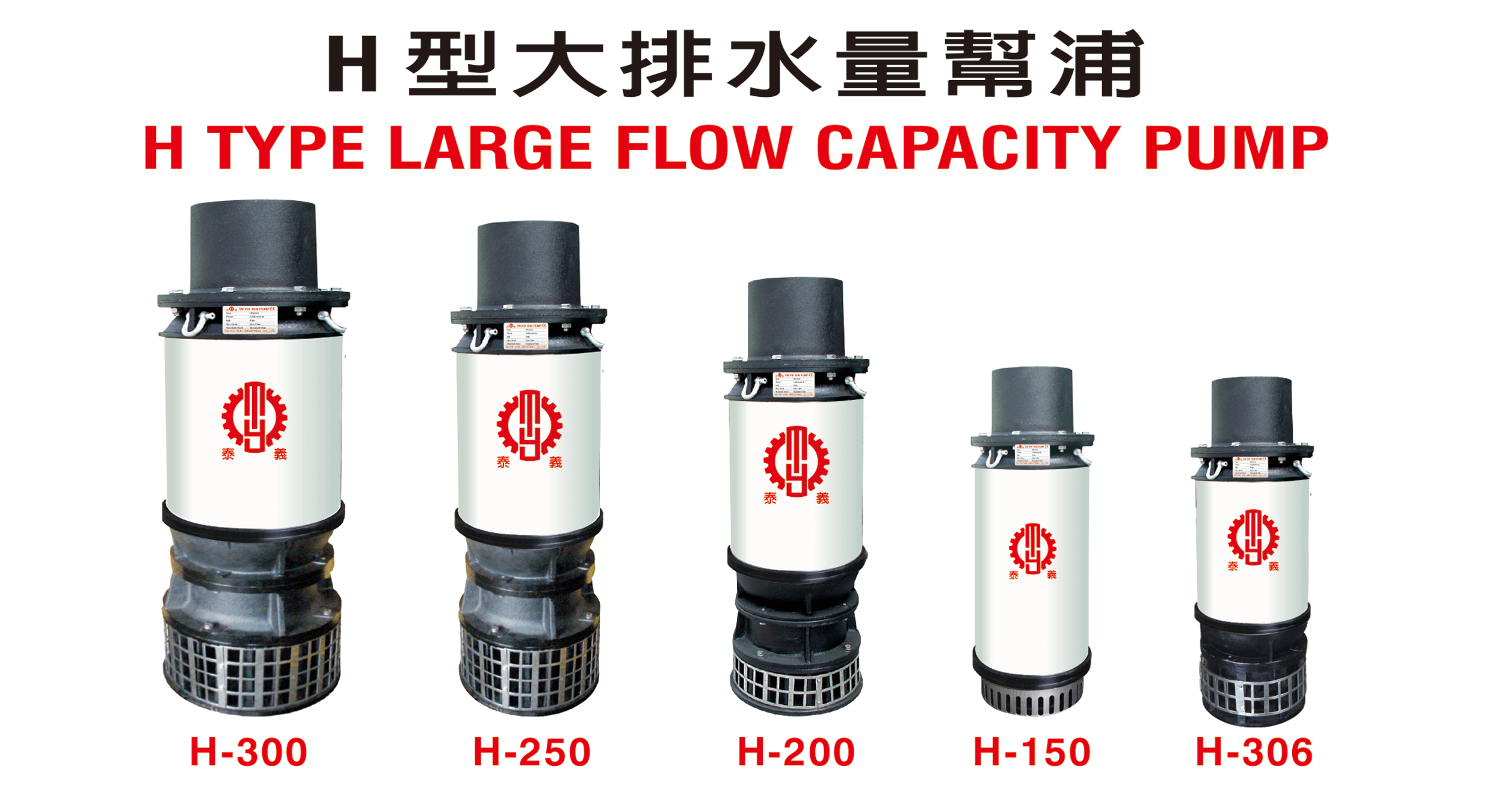 ◆ 1. Axial-flow & Mix-flow design, Low Power Consumption with large capacity and high efficiency.
◆ 2. Robust construction, double Mechanical. Seal, have good waterproof, flow guide.
◆ 3. Pump casing and motor cover are made of stainless steel and copper alloy, impeller is made of alumium bronze with anticorrosion, wear resistance.
◆ 4. Large flow capacities pump, easy handling,easy maintenance.
It is the best equipment for aquaculture, industrial and water conservation engineering to supply water and drain water in great volume.
SPECIFICATION
Item/Caliber mm
150 . 200 . 250 . 300
liquid
Liquid temp
0~40℃
Liquid nature
Agriculture irrigation‧Aguaculture water‧River water
Max depth
30m
pump
Structure
Impeller
Axial flow/ Mix flow
Mech Seal
Double Mechanical seal
Bearing
Ball type bearing
Material
Upper Cover
FC-25/ Bronze
Casing
FC-25/ Bronze
Impeller
Alumiun Bronze
M seal
CA/CE
Motor
Type
Oil cooling
Pole
4P
Insulation
F級 155℃
Hz·PH·Volt
50Hz.3PH.380V
Material
Frame
SUS304
Main Shaft
SUS304
Cable
VCT
(Special specifications will be accepted make-to-order )
TYPE
Power
Caliber
Voltage
frequency
Pole
Max. Head
Max. Flow
Standard Head
Standard Flow
Cable
Weight
HP (kw)
mm (in)
V
HZ
P
M
m 3 /min
M
m 3 /min
mm 2 Xm
kg
H-306
3(2.2)
150(6")
220/380/415
50/60
4
5
3.5
3
2.5
3.5 2 x 10
70
H-150
5(3.7)
150(6")
220/380/415
50/60
4
7.5
3
6
2
3.5 2 x 10
75
H-200
7.5(5.5)
200(8")
220/380/415
50/60
4
6.5
5.5
5
4
3.5 2 x 10
125
H-250
10(7.5)
250(10")
220/380/415
50/60
4
12
7.5
6
6
5.5 2 x 10
175
H-300
15(12)
300(12")
220/380/415
50/60
4
11
12
5.5
9.5
8 2 x 15
275