FOR SEA AND LAND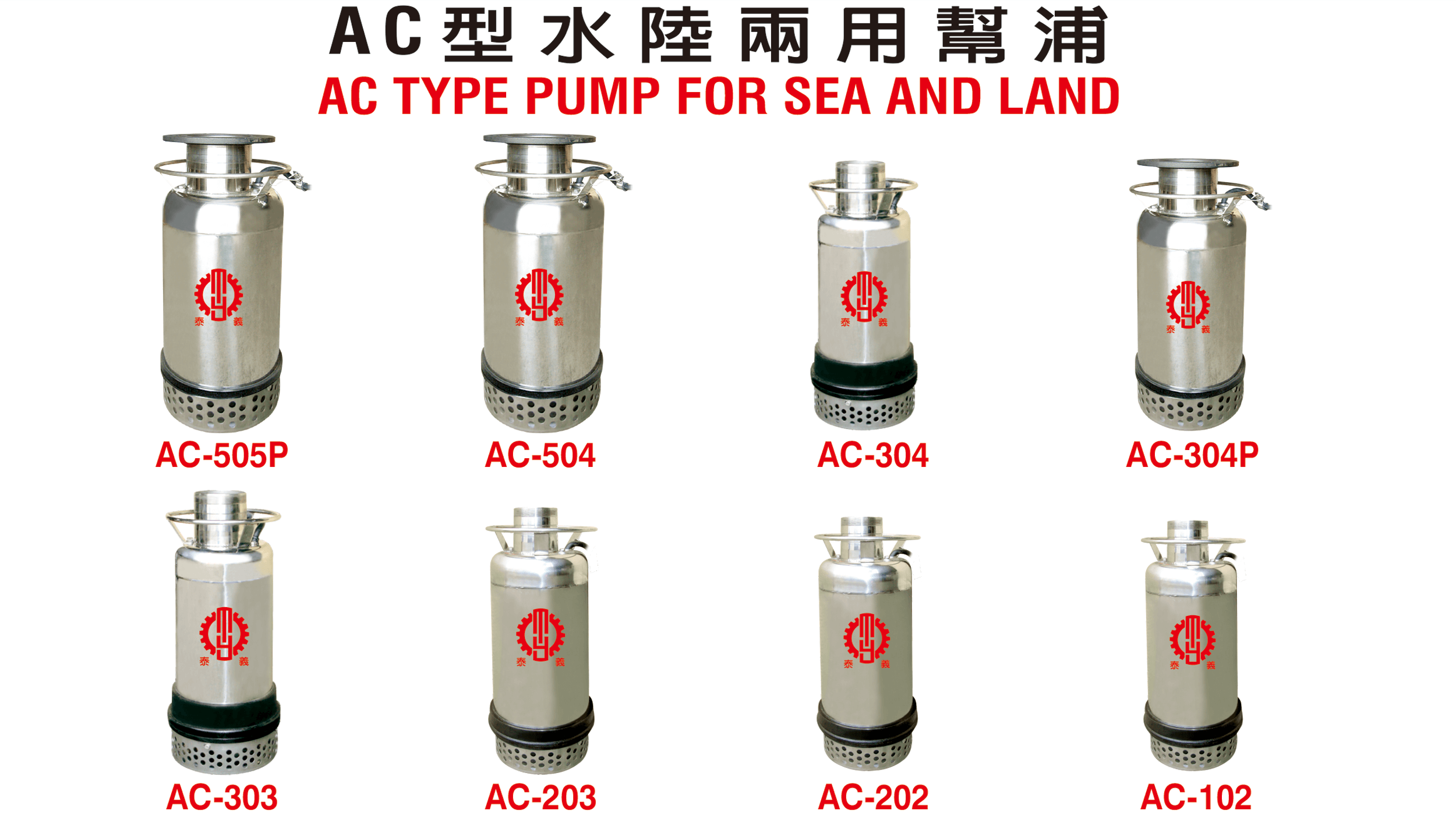 ◆ 1. It will be available for delivery and extraction. It can be serve as deepwell pump to take apart the strainer and to connect the water pipe If you put it in ponds directly, it can be serve as submersible pump.
◆ 2. It will be cooled with the style of oil-cooling the motor will keep same temperature after a long-time operation. As it is well designed according to the close centrifugal of Impeller. So water flow is large, but power consumption is low, efficiency is high.
◆ 3. It is equiped double mechanical seal and good waterproof.
Drainage hydraulic engineering and underground water. Irrigation for farm; drain and supply water and transfer oxygen for fish pond, shrimp pond and eel pond.
SPECIFICATION
Item/Caliber mm
50 . 80 . 100 . 125
liquid
Liquid temp
0~40℃
Liquid nature
Agriculture irrigation‧Aguaculture water‧Else drainage
Max depth
30m
pump
Structure
Impeller
Close centrifugal
Mech Seal
Double Mechanical seal
Bearing
Ball type bearing
Material
Out Cover
SUS-304
Upper Cover
FC-25/ Bronze
Casing
FC-25/ Bronze
Impeller
Alumiun Bronze
M seal
CA/CE
Motor
Type
Oil cooling
Pole
2P/ 4P
Insulation
F級
Hz·Ø·Volt
50H/ 60z.3Ø.220V.380V
Protector
AC馬達保護器 (3HP之1Ø無裝置)
Material
Frame
SUS304
Main Shaft
SUS304
Cable
VCT
(Special specifications will be accepted make-to-order)
TYPE
Power
Caliber
Voltage
frequency
Pole
Max. Head
Max. Flow
Standard Head
Standard Flow
Cable
Weight
HP (kw)
mm (in)
V
HZ
P
M
m 3 /min
M
m 3 /min
mm 2 Xm
kg
AC-102
1(0.75)
50(2")
220/380/415
50/60
2
15
0.30
11
0.15
1.25 2 x 8
25
AC-202
2(1.5)
50(2")
220/380/415
50/60
2
15
0.4
10
0.2
2.0 2 x 8
40
AC-203
2(1.5)
80(3")
220/380/415
50/60
2
12
1.2
7
0.8
3.5 2 x 10
40
AC-303
3(2.2)
80(3")
220/380/415
50/60
2
15
1.5
10
0.8
3.5 2 x 10
44
AC-304
3(2.2)
100(4")
220/380/415
50/60
2
15
1.6
8
1.0
3.5 2 x 10
44
AC-504
5(3.7)
100(4")
220/380/415
50/60
2
17
1.7
11
0.9
3.5 2 x 10
55
AC-304P
5(2.2)
100(4")
220/380/415
50/60
4
8
1.6
6
1.0
3.5 2 x 10
44
AC-505P
5(3.7)
125(5")
220/380/415
50/60
4
7.5
2.5
6
1.7
3.5 2 x 10
55