FOR FRESH WATER CATALOG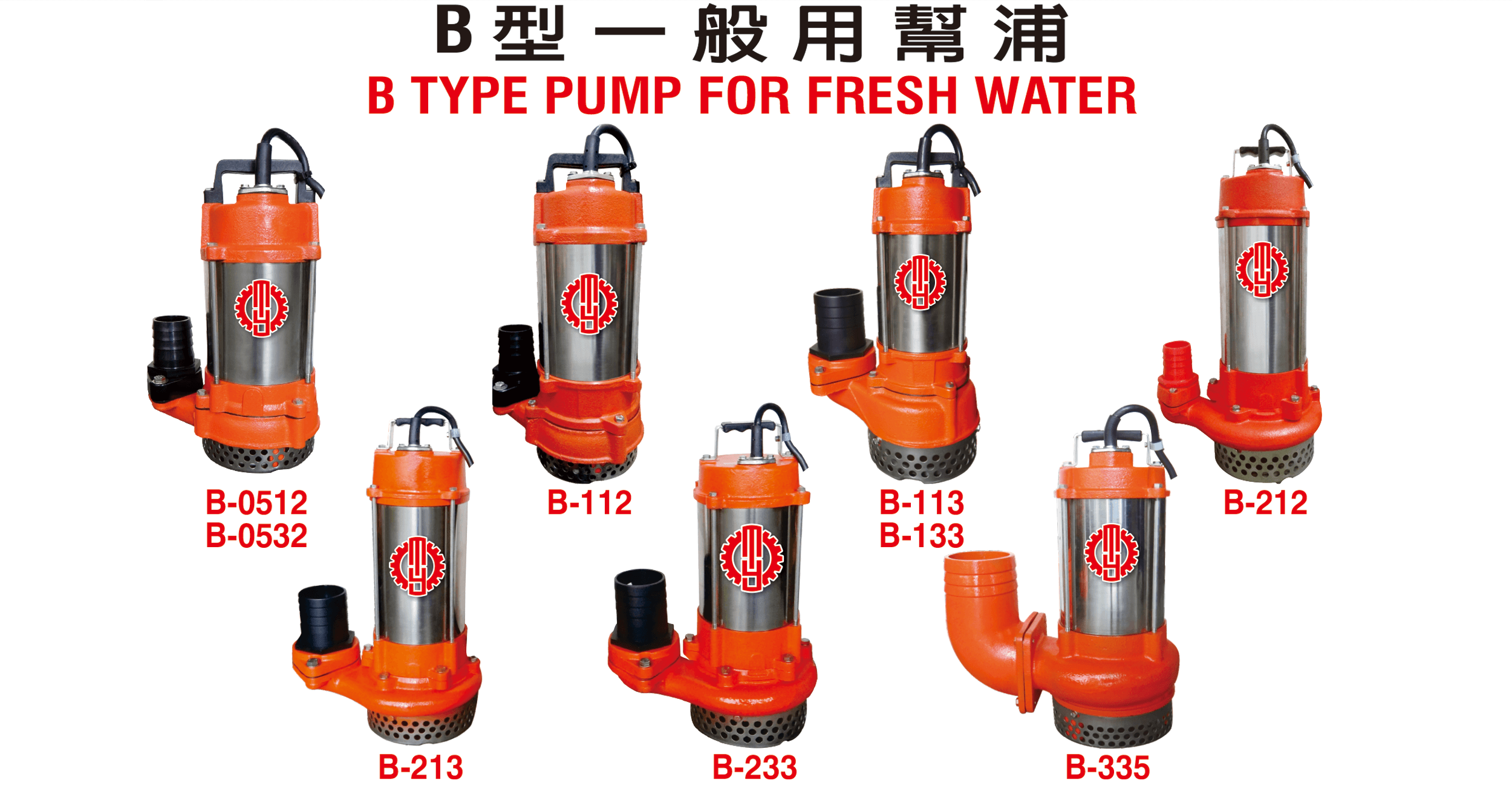 ◆ 1.Small size, light-weight, high capacity; easy to use, multipurpose.
◆ 2.Motor body, screw and strainer are made of stainless steel.
◆ 3.Adapt imported mechanical seal and oil ring; it is durable.
◆ 4.It is electricity saving. The water volume is large and flow head is high & maintainence are convenient.
Drain the surplus accumulated water in fishpond; drainage for civil & architectural engineering; delivery & drainage for agricultural, fishery & livestock industries; and drain out accumulated water in the basement and the pumping up for water tower.
SPECIFICATION
Item/Caliber mm HorsepowerHP
50 . 80 . 100
0.5~3
liquid
Liquid temp
0~40℃
Liquid nature
General drainage‧Engineering Drainage
Max depth
30m
pump
Structure
Impeller
Open centrifugal
Mech Seal
Double Mechanical seal
Bearing
Ball type bearing
Material
Upper Cover
SUS-304
FC-25
Casing
SUS-304
FC-25
Impeller
0.5~1HP.FC-25)
FCD-70
FC-25
M seal
CA/CE
Sic/Sic
Motor
Type
Oil cooling
Pole
2P/4P
Insulation
F級 155℃
Hz·Ø·Volt
50H/ 60z.1Ø.3Ø.220V.380V
Protector
AC Motor protector
Material
Out Cover
SUS304
FC-25
Main Shaft
SUS304
SUS304
Cable
VCT
2PNCT
(Special specifications will be accepted make-to-order )
TYPE
Power
Caliber
Voltage
frequency
Pole
Max. Head
Max. Flow
Standard Head
Standard Flow
Cable
Weight
HP (kw)
mm (in)
V
HZ
P
M
m 3 /min
M
m 3 /min
mm 2 Xm
kg
B-0512
1/2(0.4)
50(2")
220/380/415
50/60
2
12
0.25
9
0.13
1.25 2 x 5
15
B-0532
1/2(0.4)
50(2")
220/380/415
50/60
2
11
0.22
7.5
0.13
1.25 2 x 5
15
B-112
1(0.75)
50(2")
220/380/415
50/60
2
11.5
0.25
10
0.12
2.0 2 x 5
18
B-132
1(0.75)
50(2")
220/380/415
50/60
2
15
0.3
10
0.17
2.0 2 x 8
18
B-113
1(0.75)
80(3")
220/380/415
50/60
2
10
0.45
7
0.3
1.25 2 x 6
18
B-133
1(0.75)
80(3")
220/380/415
50/60
2
10
0.5
6.5
0.3
1.25 2 x 6
18
B-212
2(1.5)
50(2")
220/380/415
50/60
2
20
0.4
16
0.25
3.5 2 x 10
30
B-232
2(1.5)
50(2")
220/380/415
50/60
2
20
0.4
14
0.25
3.5 2 x 10
28
B-213
2(1.5)
80(3")
220/380/415
50/60
2
17.5
0.6
15
0.3
3.5 2 x 10
35
B-233
2(1.5)
80(3")
220/380/415
50/60
2
18
0.7
13
0.4
3.5 2 x 10
33
B-234
2(1.5)
100(4")
220/380/415
50/60
4
10
1.0
6
0.5
3.5 2 x 10
35
B-335
3(2.2)
125(5")
220/380/415
50/60
4
9
1.5
7
0.75
3.5 2 x 10
38