High Efficiency 2 Wheel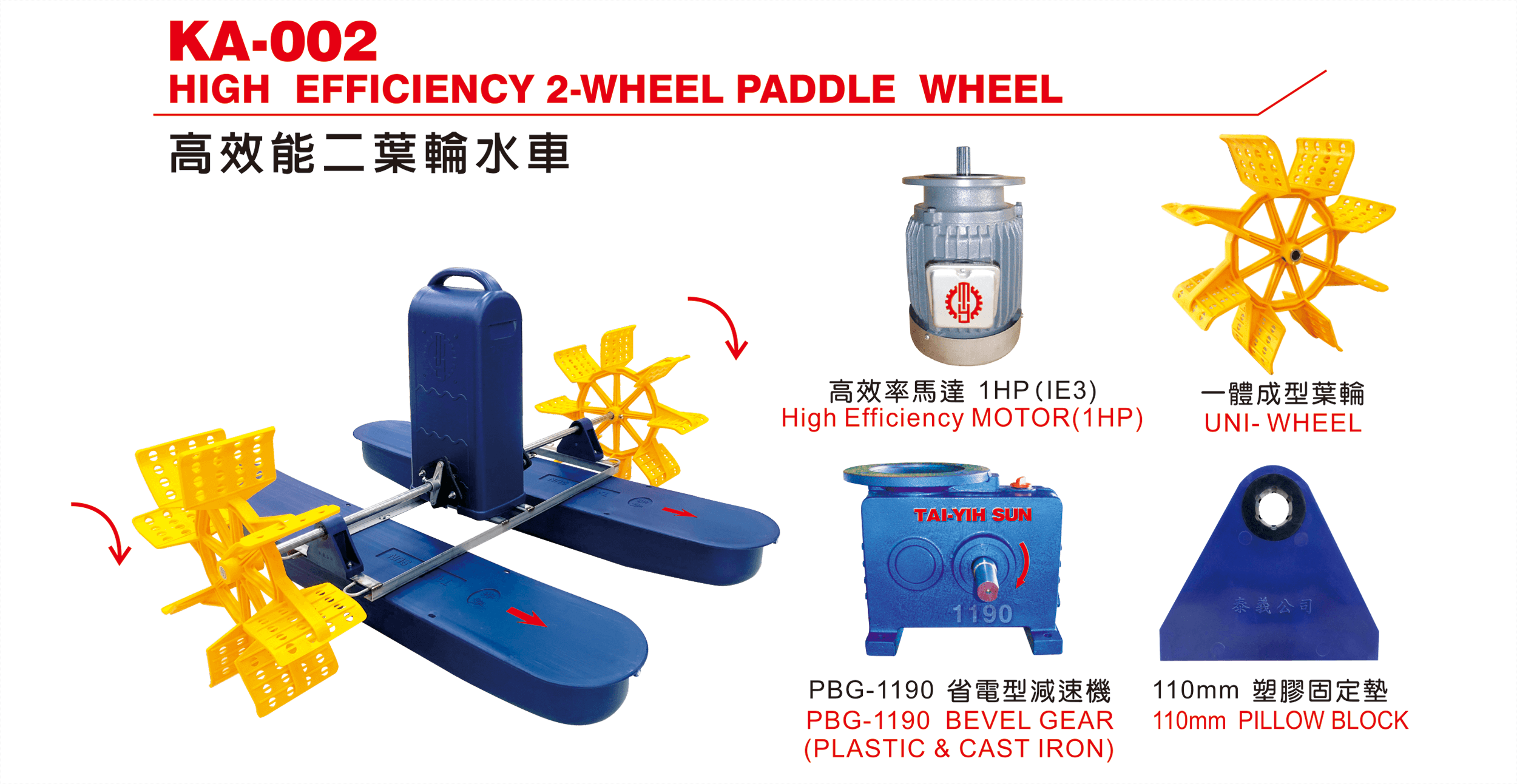 ◆ High Dissolved Oxygen (DO)
TAI-YIH SUN paddle wheel generate the dissolved oxygen higher than other brands do. Because years of continuous R & D and design of TAI-YIH SUN large paddle wheel-used impeller with relatively wide of 220m/m and draft of 90m/m. While TAI-YIH SUN paddle wheel can water up to 20M long,therefore. ALL of the dissolved oxygen can be higher.
◆ High quality (long life)
TAI-YIH SUN paddle wheel life is over 5 years due to high quality spare parts and precise machine processing. The most important parts of paddle wheel are the reducer and motor. TAI-YIH SUN reducer and motor are made by the CNC machine center processing and by test Coordinate Measuring Machines to achieve 1S0-9001 quality standards.
◆ Low power consumption
TAI-YIH SUN paddle wheel can provide a high level of dissolved oxygen and large water flow. TAI-YIH SUN motor is the culmination of years of R & D for a low power consumption and high efficiency. By the dynamic balance of motor machine test, TAI-YIH SUN motor test report can show the motor loading, low power consumption, and high efficiency.Also there are large torque, however these motor are not easy burned due to the electric current over loaded.
Aerator
SAE
(Kg O2/Kw.hr)
SOTR
(Kg O2/hr)
Elec. Current
(Ampere)
P Input
Water Flow
(cm/sec)
TYS-K002
1.05
0.84
1.56
0.8
14
Other Brand
0.78
0.7
1.74
0.9
4
TYPE OF
PADDLE WHEEL
REDUCER
MOTOR
GEAR RATIO
HZ
VOLT
AMP
RPM
Deep in Water
(mmxmm)
DO
(Kg/Hr)
W
Power
comsumption
KA-002
PBG-1190
1HP
14:1
50HZ
380V
1.40
104
220mmx90mm
1.40
650
50HZ
415V
1.28
104
220mmx90mm
1.40
650
50HZ
440V
1.20
104
220mmx90mm
1.40
645
Constructed profiles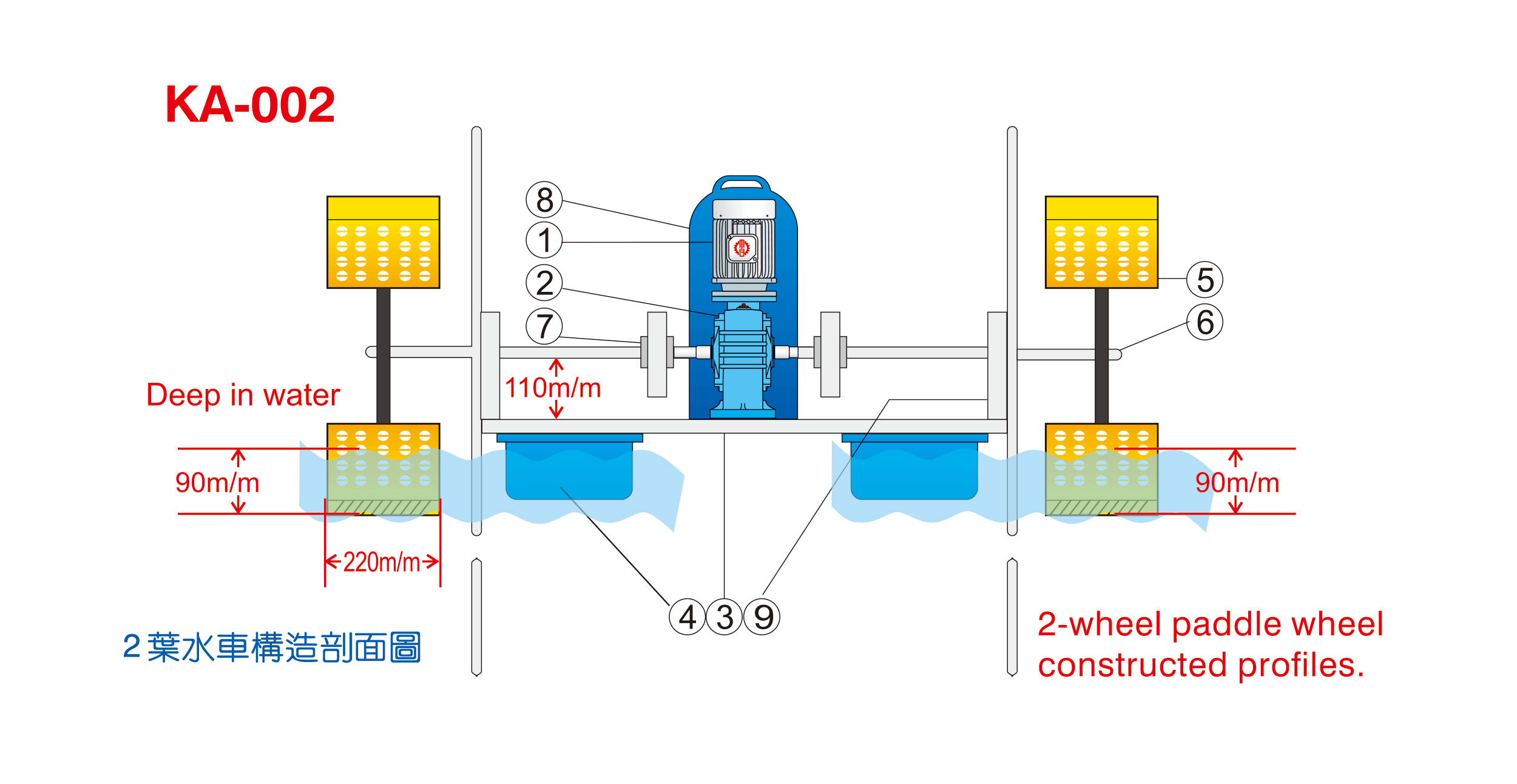 The specification of 2-wheel Paddle wheel
NO
Description
Q'ty
Specification(mm)
Material
1
Motor
1
1 HP×4P×3ø
Tai Yih Sun Brand
2
Bevel Gear (Plastic & Cast iron)
1
1 :14(50HZ)
SAE8620 Alloy Steel Carburizing AISI 304 Stainless Steel
3
Stainless Steel Frame
1
370W x 115QL
AISI 304 Stainless Steel
4
Floating Boat
2
300W x 210H x 1800L
H.D.P.E
5
Uni-Wheel
2
220W x 670ø
Nylon
6
Stainless Steel Shaft
2
25ø x 680L (SOLID )
AISI 304 Stainless Steel
7
Stainless Steel Movable joint
2
25ø x 90 x 90
AISI 304 Stainless Steel
8
Engine Cover
1
200W x 330L x 720H
H.D.P.E
9
Pillow block
2
110H X 130L
H.D.P.E
10
Machine Setting Bar(Optional)
2
3/4"S.G.Px2000
Galvanized Steel Bar
Paddle Installation Notes:
1. The arrow of floating boat must be inspected during assembly, the direction of impeller (such as arrows) and direction of rotation reducer (marked on reducer), three arrows have to point to the same direction to be the right assembly.
2. Assembled reducer must be inspected when it is loaded with gear oil, and oil has to be loaded 80% full.
3. After waterwheel assembly, if the axis of stainless steel (stainless steel shaft) and the axis of reducer is in line.